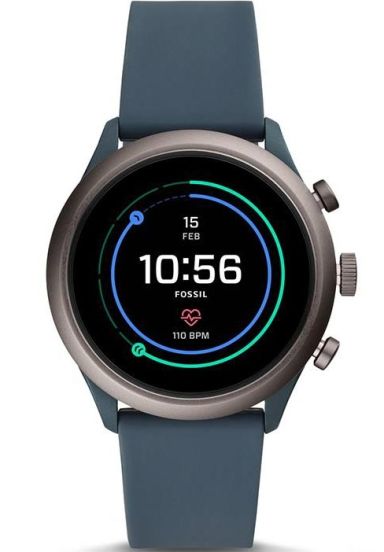 Fossil Sport Smartwatch Smokey Blue FTW4021
Klokkegiganten.no er utvalgt som offisiel forhandler av
Fossil klokker
. Det gir deg sikkerhet for at din kjøpte klokke er 100% original og kvalitetstestet.
Detaljer
Pulsmåler
Klokkens optiske sensor kan måle pulsen din, og kan blant annet genere diagrammer for utviklingen av pulsen din i løpet av dagen.
Aktivitets-tracker
Mål din daglige aktivitet. Hvor mange skritt har du gått? Hvor mange kilometer? Hvor mange brente kalorier? Klokken forteller deg alt dette og mere.
GPS
Denne klokken har innebygget Global Posisjonering System, også kjent som GPS, som kan angi din aktuelle posisjon eller rute f.eks. når du løper eller drar på sykkeltur. Dette betyr f.eks. at du ikke trenger å ha med telefonen din på løpeturen. Du kan la den ligge hjemme.
NFC-chip
Klokken har innebygget NFC-chip, som ved hjelp av Google Pay kan brukes til betaling ved betalingsterminaler som støtter NFC bruk.
Google Assistant
Enklere interaksjon med klokken via Google Assistant, som kan gjenkjenne stemmekommandoer.
Touchscreen-funksjon
Få notifikasjoner fra sosiale medier, e-mails, se hvem som ringer deg på telefonen, samt se dine sms-beskjeder direkte på håndleddet ditt.
Trådløs synkronisering
Synkronisering av data mellom telefonen og klokken gjøres uten bruk av kabel og skjer fullstendig automatisk.
Trådløs lading
Disse smartwatch-klokkene behøver ikke å bli tilkoblet til en strømkabel når de skal lades opp. Bare legg klokken på lademagneten, og den smarte teknologien ordner resten.
Kontroller din musikk
Styr musikken på telefonen direkte fra klokkens touchscreen, uansett om du bruker Spotify, Pandora, Soundcloud, Google Play, etc. (gjelder kun Android). Du kan også spille av spillelister som allerede er lagret uten å ha telefonen med på løpeturen.
Automatisk oppdatering av tid og dato
Det er slutt på at klokken din går for langsomt eller for fort - selv når du er i utlandet. Klokken oppdaterer automatisk klokka i forhold til tidssonen du befinner deg i.
Du bestemmer skivedesignet selv
Du har total kontroll over hvordan klokkens skive skal se ut. Velg fritt mellom de mange flotte muligheter og tilpass farger og funksjoner som passer deg.
Alarmfunksjon
Uansett om du foretrekker vibrasjoner eller lyd, så kan klokken minne deg om viktige tidspunkter og begivenheter som du har skrevet ned i kalenderen eller stilt i alarmer.
Liten lommelykt
Bruk klokkens lommelykt til å lyse på små områder.
Illuminate the interior of a carryall
Bruk de appene du vil
Last ned apper selv, slik at klokken din får de funksjonene du har behov for!
Stoppeklokke
Bruk stoppeklokken når du trener eller til andre små ting i hverdagen.
Bestem dine mål i hverdagen selv
Om det er skrittantall, glass vann eller andre mål som du har i hverdagen så hjelper klokken deg med å holde styr på dem og med å oppnå dem!
Værvarsel
Få værvarsel fort og enkelt på din Smartwatch.
Rask lading
Med den smarte laderen tar det bare en time å få klokken ladet opptil 80%, noe som er perfekt når du er på farten.
Tekniske spesifikasjoner
Wear OS by Google™ & Qualcomm® Snapdragon Wear™ 3100. Kompatibel med Android 4.4+ og iOS 9.3+, Bluetooth® Smart Enabled / 4.1 Low, Wi-Fi 802.11 b/g/n, Batteri: 24-48 timer avhengig av bruk
Autorisert forhandler
Vi er utnevnt som autorisert forhandler av dette merket. Det betyr stor trygghet for deg som forbruker: sikkerhet i at varen er ekte, samt en offisiell service og garanti.
Produktbeskrivelsen er utarbeidet spesifikt til Klokkegiganten.no og må ikke kopieres eller modifiseres! Overtredelse av dette vil bli møtt med erstatningskrav.
Levering
Billigste fraktmetode - 7-14 hverdager
Denne fraktmetoden koster 0 kr på ordre over 1000 kr og 49.49 kr for ordre under 1000kr
Rask forsendelse levert på døren / Nærmeste utleveringssted - 1-5 hverdager
Denne fraktmetoden koster 49.49 kr på ordre over 1000 kr og 79 kr på ordre under 1000kr
Servicepakke - 5-10 hverdager
Denne fraktmetoden koster 89 kr uansett ordrebeløp.
Bedriftspakke ekspress - 1-4 hverdager
Denne fraktmetoden koster 99 kr på ordre over 1000 kr og 129.01 kr på ordre under 1000kr
Spesifikasjoner
Spesifikasjoner

| | |
| --- | --- |
| Urkassefarge | Blå, Gunmetal |
| Lenketype | Silikon |
| Lenke/rem farge | Blå |
| Rem/lenke bredde | 22 |
| Urskivefarge | LCD/LED |
| Urverk | Digital |
| Datovisning | Ja |
| Vannbestandighet | 5 atm (vannsprut/regn) |
| Tykkelse | 12 |
| Diameter | 43 |
| Urkassemateriale | Aluminium |
| Låstype | Spenne |
| Kjønn | Herre |
Andre produkter du kanskje liker