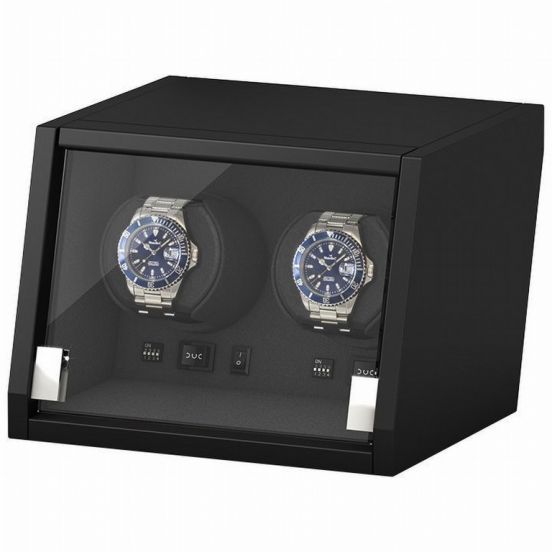 Beco Boxy Castle - Svart watchwinder til to klokker med innebygget LED-lys
Spar 45%
Vår pris
kr 3 065,00
Veil. pris
kr 5 545,00
Beco
På lager
Avsendes straks på alle hverdager ved bestilling før kl.15.00
Med innebygget LED lyser boksen opp ved berøring og slukker automatisk etter 20 sekunders inaktivitet. Klokken har plass til to klokker som individuelt kan trekkes opp til å ha mellom 650 og 3.600 omdreininger. Sammen med watchwinderen får du også en 230V AC adapter. Da modellen har en lyssensor, betyr det at støynivået nesten er ikke-eksisterende. Klokkegiganten.no er utvalgt som offisiell internettforhandler for alle
BECO produkter
i Norge. BECO leverer watch windere og tilbehør med høy funksjonalitet og flott design.
NB:
På grunn av størrelsen til Beco produktene, kan det ikke bestilles gaveinnpakning til disse produktene. Papiret blir nemlig ofte krøllet/skadet under transport. Bestilles gaveinnpakning med produktet, vil beløpet bli refundert om du tar kontakt med oss.
Detaljer
Autorisert forhandler
Vi er utnevnt som autorisert forhandler av dette merket. Det betyr stor trygghet for deg som forbruker: sikkerhet i at varen er ekte, samt en offisiell service og garanti.
Watch winder til to klokker
Watch winderen har plass til to klokker samtidig. Motorene kan aktiveres separat hvis man kun ønsker å bruke den til én klokke.
Innebygget LED-lys
Watch winderen har innebygget LED-lys som automatisk slås av og på.
Mulighet for å programmere omdreiningene
Denne watch winderen gir deg mulighet til å programmere i intervaller hvordan klokkens omdreininger skal være. Klokken kan dreie til venstre, høyre, samt frem og tilbake.
Forskjellige hastigheter
Watch winderen gir deg mulighet til å styre hastigheten selv. Denne opptrekkeren kan gå i hastigheter mellom 650 og 3 600 omdreininger per dag.
Strømforsyning inkludert
Denne watch winderen blir levert med strømforsyning.
Tre
Produktet er produsert av tre i høy kvalitet.
Produktbeskrivelsen er utarbeidet spesifikt til Klokkegiganten.no og må ikke kopieres eller modifiseres! Overtredelse av dette vil bli møtt med erstatningskrav.
Levering
Billigste fraktmetode - 7-14 hverdager
Denne fraktmetoden koster 0 kr på ordre over 1000 kr og 49.49 kr for ordre under 1000kr
Rask forsendelse levert på døren / Nærmeste utleveringssted - 1-5 hverdager
Denne fraktmetoden koster 49.49 kr på ordre over 1000 kr og 79 kr på ordre under 1000kr
Servicepakke - 5-10 hverdager
Denne fraktmetoden koster 89 kr uansett ordrebeløp.
Bedriftspakke ekspress - 1-4 hverdager
Denne fraktmetoden koster 99 kr på ordre over 1000 kr og 129.01 kr på ordre under 1000kr
Spesifikasjoner
Spesifikasjoner

| | |
| --- | --- |
| Glass | Mineral |
| Datovisning | Nei |
Andre produkter du kanskje liker