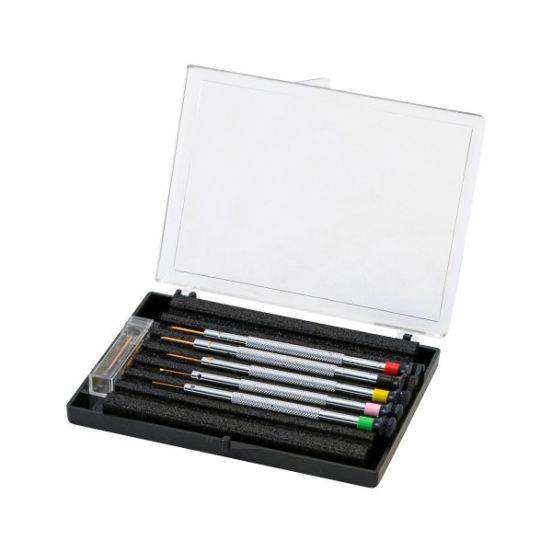 Case with 5 Screwdrivers, 0.5 - 1.2 mm, with Anti-Magnetic Blades and Spare Blades 212451
Spar 48%
Vår pris
kr 519
Før pris
kr 995
Beco
På lager
Avsendes straks på alle hverdager ved bestilling før kl.15.00
Klokkegiganten.no er utvalgt som offisiell internettforhandler for alle
BECO produkter
i Norge. BECO leverer watch windere og tilbehør med høy funksjonalitet og flott design.
NB:
På grunn av størrelsen til Beco produktene, kan det ikke bestilles gaveinnpakning til disse produktene. Papiret blir nemlig ofte krøllet/skadet under transport. Bestilles gaveinnpakning med produktet, vil beløpet bli refundert om du tar kontakt med oss.
Produkt lagt i handlekurven!
Produktbeskrivelse
Small case with 5 screwdrivers. The screwdrivers have a non-slip shaft and rotatable heads. The anti-magnetic blades are interchangeable.
Included screwdrivers:
Ø 0.5 mm, green, including spare blade
Ø 0.6 mm, pink, including spare blade
Ø 0.8 mm, yellow, including replacement blade
Ø 1.0 mm, black, including spare blade
Ø 1.2 mm, red, including spare blade
Dimension
150x180x850 mm
Autorisert forhandler
Vi er utnevnt som autorisert forhandler av dette merket. Det betyr stor trygghet for deg som forbruker: sikkerhet i at varen er ekte, samt en offisiell service og garanti.
Produktbeskrivelsen er utarbeidet spesifikt til Klokkegiganten.no og må ikke kopieres eller modifiseres! Overtredelse av dette vil bli møtt med erstatningskrav.
Merk: For dette produkter medfølger det ikke manual på norsk, men manual på engelsk kan lastes ned online eller er vedlagt i esken.
Levering
Vi har i dag følgende leveringsalternativer på Klokkegiganten.no:
| | |
| --- | --- |
| Leveringsmetoder Norge | Pris |
| Vi velger den billigste fraktmetode – 8-15 hverdager | 59 kr |
| Pakke i postkassen – 7-14 hverdager | 69 kr |
| Pakke i postkassen/Pose på døren – 7-14 hverdager | 79 kr |
| Rask forsendelse levert på døren / Nærmeste utleveringssted - 1-5 hverdager (UPS/Bring) | 95 kr |
| Servicepakke til nærmeste postkontor/pakkeboks – 5-10 hverdager (Bring) | 99 kr |
| Bedriftspakke ekspress - Levert på døren / til nærmeste utleveringssted - 1-4 hverdager (UPS/Bring) | 129 kr |
Spesifikasjoner
Spesifikasjoner

| | |
| --- | --- |
| Varenummer | 212451 |
| EAN | 4022739118944 |
| Merke | Beco |
Størrelsesguide

Hvordan måles klokkens størrelse?
Diameteren
Vi bruker utrykket diameteren,som er bredden av urkassen målt fra venstre til høyre. Bemerk at enkelte produsenter inkluderer kronen (til å innstille klokken) og knappene når de måler bredden, men vi forsøker å standardisere ved å ikke medregne kronen som en del av bredden.



Tykkelsen
Tykkelsen - eller høyden på klokken i profil - er angitt med å måle klokken fra topp til bunn som illustrert under. Til sammenligning er en norsk 5-krone mynt 2 millimeter tykk.
Man definerer normalt klokkene ut fra disse tall::
Tynn: 4-6 millimeter
Normal: 6-12 millimeter
Stort: 12-14 millimeter
Oversize: 14-18 millimeter